Business development is integral to achieving consistent business growth. By focusing on expanding market reach, nurturing client relationships, and launching new products or services, business development acts as the cornerstone of a company's success.
Table of Contents
Here's how you can map success by utilizing the business development process:
Understand Your Business Vision and Objectives:

Clearly define the direction in which you want your business to move. Are you introducing a new product or service? What's the long-term vision?

Research and Market Analysis:

Investigate potential markets, segments, and customer needs.
Understand the competition and identify gaps in the market. What are the current industry trends and future predictions?

Define Your Value Proposition:

Highlight what makes your product or service stand out.
Cater directly to the needs and challenges of your target audience.

Strategic Networking:

Engage with industry peers, potential partners, and customers through various channels, including social media.
Attend industry-related events and conferences to forge beneficial relationships and gain insights.

Form Strategic Partnerships:

Seek collaborations with businesses that can enhance or complement your product or service. Such partnerships can foster business growth by tapping into new markets.

Create a Business Development Plan:

Chart out a structured plan that aligns with your overall business development strategy. This plan should synchronize sales and marketing efforts to ensure cohesiveness in the approach.

Lead Generation and Qualification:

Utilize multi-channel strategies like inbound marketing, social media, and outbound sales calls to generate potential leads.
Vet these leads to ascertain they fit your ideal customer profile.

Craft Tailored Proposals:

Based on potential client needs, develop proposals that underscore how your product or service can resolve their issues.

Negotiate and Secure Deals:

Engage in constructive negotiations with potential clients. Address any concerns and finalize agreements that are beneficial for both parties.

Strengthen Post-Sale Relationships:
The role of the business development team doesn't end after the sale. Building enduring relationships can result in repeat business, referrals, and long-term loyalty.
Performance Metrics and Review:
Regularly assess metrics like the effectiveness of the business development strategy, ROI, lead conversion rates, etc.
This data is pivotal to refining your business development plan.
Iterate and Refine:
Based on performance feedback, adapt and optimize your strategies. The business development process should be dynamic and responsive to the ever-evolving market conditions.
Empower Your Business Development Team:
Equip your business development team with the requisite skills, tools, and training. A well-prepared team can execute the business development strategy with precision.
By diligently following these steps and ensuring each stage of the business development process resonates with the broader goals of the company, you can set the course for sustained success and growth. Always make sure that the objectives are clear, the teams are aligned, and the execution is flawless.
Business Development Representative Responsibilities
A Business Development Representative(BDR) is integral to driving a company's growth by bridging the gap between marketing and sales. Their responsibilities revolve around identifying, cultivating, and channeling new sales opportunities into the business development process.
Here's an elaborative list of a BDR's duties:
Lead Generation:

Scour various platforms, including CRM systems, social media, and online databases, to identify potential clients and businesses that could benefit from the company's offerings.
Ensure that the company's value proposition aligns with the needs of these potential clients.

Outreach and Initial Contact:

Approach potential leads through emails, cold calls, and other communication means.
Make sure the company's products or services are compellingly presented.

Qualifying Leads:

Evaluate leads to determine their likelihood of converting into actual customers.
Make sure they fit the company's criteria for ideal leads, considering factors like budget, company size, and buying intent.

Setting Appointments:

Coordinate meetings between potential clients and the sales team.
Ensure seamless communication by passing on vital information about the lead to the sales team.

Collaboration with Marketing and Sales Teams:

Align lead generation tactics with ongoing marketing campaigns.
Provide timely feedback to both marketing and sales teams, ensuring that business development efforts are synchronized and effective.

Maintaining CRM:

Consistently update the Customer Relationship Management system with fresh data about leads and their interactions.
Monitor lead metrics and sales funnel progress, ensuring that the business development process remains effective.

Market Research:

Keep abreast of industry trends, competitors, and market conditions.
Gather data to refine the business development strategy and identify growth areas.

Achieving Targets:

Strive to meet or surpass set KPIs related to lead generation and other metrics.
Contribute to the overall success of the business development efforts by ensuring targets align with the larger business development strategy.

Feedback and Strategy Optimization:

Offer valuable feedback about challenges and areas of improvement in the outreach process.
Play a role in tweaking the business development strategy for greater efficacy.

Nurturing Relationships:
Establish and nurture long-term relationships with potential clients.
Recognize that today's leads could be tomorrow's customers, given the right business development efforts.
Continued Learning and Training:
Stay updated with the company's product or service changes.
Regularly participate in training to hone skills and better align with the business development strategy.
Strategizing for Success:
Actively participate in devising and refining the business development strategy.
Collaborate with other teams to create a business development plan that ensures successful business development and supports the company's goals.
By understanding and implementing these responsibilities, a BDR not only ensures a robust sales pipeline but also plays a pivotal role in shaping a successful business development strategy.
Why does Business Development Matter?
Business development is vital for any organization aiming to achieve sustained growth, innovation, and competitiveness in the marketplace.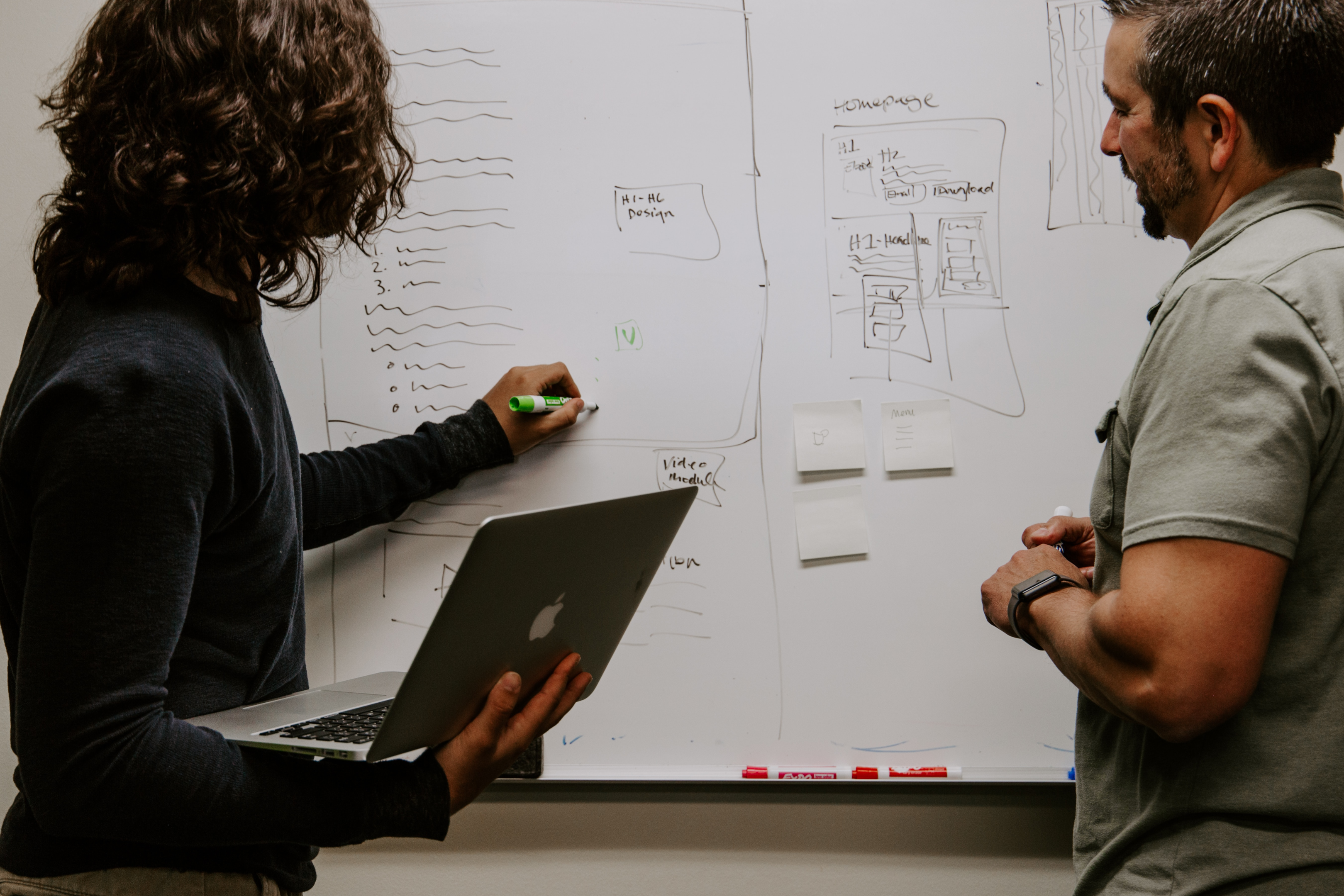 Image Source: Unsplash
Here's why business development truly matters:
Drives Revenue Growth:

Business development is fundamentally about devising strategies, activities, and approaches to amplify sales and grow an enterprise. Prioritizing the target audience within the business development process is crucial. When the sales team integrates seamlessly with this process, a steady revenue stream, vital for every organization, is assured. By catering to the unique needs and preferences of the target audience, the business development process becomes more streamlined and effective.
As this process evolves to meet changing market demands, maintaining a sharp focus on the target audience is indispensable. Regularly assessing and understanding the target audience ensures the business development process remains relevant and results-driven. Aligning every decision within the business development process with the target audience paves the way for enhanced growth opportunities and sustained marketplace success.

Strategic Expansion:

The business development process aids companies in venturing into new markets, exploring different territories, and diversifying the customer base. By comprehending the needs and nuances of various markets, businesses can tailor their product or service, achieving broader reach and penetration.

Strengthening Partnerships:

Business development is not just about expanding customer numbers. It involves forging and nurturing strategic partnerships. Collaborations can provide shared resources, amplify marketing reach, and provide insights into better product or service offerings.

Enhances Competitive Advantage:

Business development continually scans the market for trends, gaps, and competitor moves. Through this, companies can adapt, ensuring they remain steps ahead of competitors. By integrating sales and marketing efforts with the business development process, a company can identify and seize opportunities faster.

Facilitates Innovation:

Business development identifies market gaps and customer needs, often leading to the ideation of new products, services, or solutions. As businesses adapt their product or service based on market feedback and needs, they foster a culture of innovation.

Optimizes Customer Service:

An intrinsic part of business development is understanding and catering to customer needs. Through excellent customer service, businesses can establish trust, build long-term relationships, and ensure customer loyalty.

Resource Allocation and Efficiency:

A well-defined business development plan helps organizations align their resources, be it human, financial, or technological, to the most promising opportunities, ensuring optimal returns on investments.

Risk Diversification:

The business development process emphasizes exploring multiple avenues and diversifying the company's offerings. Such diversification acts as a risk mitigation strategy, safeguarding the company against unforeseen market volatilities.

Building Long-term Strategies:

While immediate gains are essential, business development primarily focuses on the long term. A robust business development plan charts out the roadmap for sustainable growth, ensuring that a company remains resilient in changing market dynamics.

Reputation and Brand Building:
A successful business development strategy, combined with consistent sales and marketing efforts, fortifies a company's position in the market, enhancing its brand reputation and recall.
Aligning with Organizational Goals:
The business development process, interwoven with the company's sales and marketing endeavors, ensures that every initiative or strategy aligns with the broader organizational objectives, ensuring cohesive and coordinated growth.
Business development, fortified by a robust business development plan, underpins a company's ambition, guiding its trajectory towards expansion, diversification, and market leadership. It bridges the gap between sales and marketing, product offerings, and customer needs, ensuring a holistic approach to organizational growth.
Product Management and Manufacturing
Product management and manufacturing are intertwined stages in a product's journey. With product management outlining the strategic blueprint and manufacturing physically realizing the product, collaboration between team members in both realms is paramount. This partnership ensures timely, quality product delivery that caters to market needs.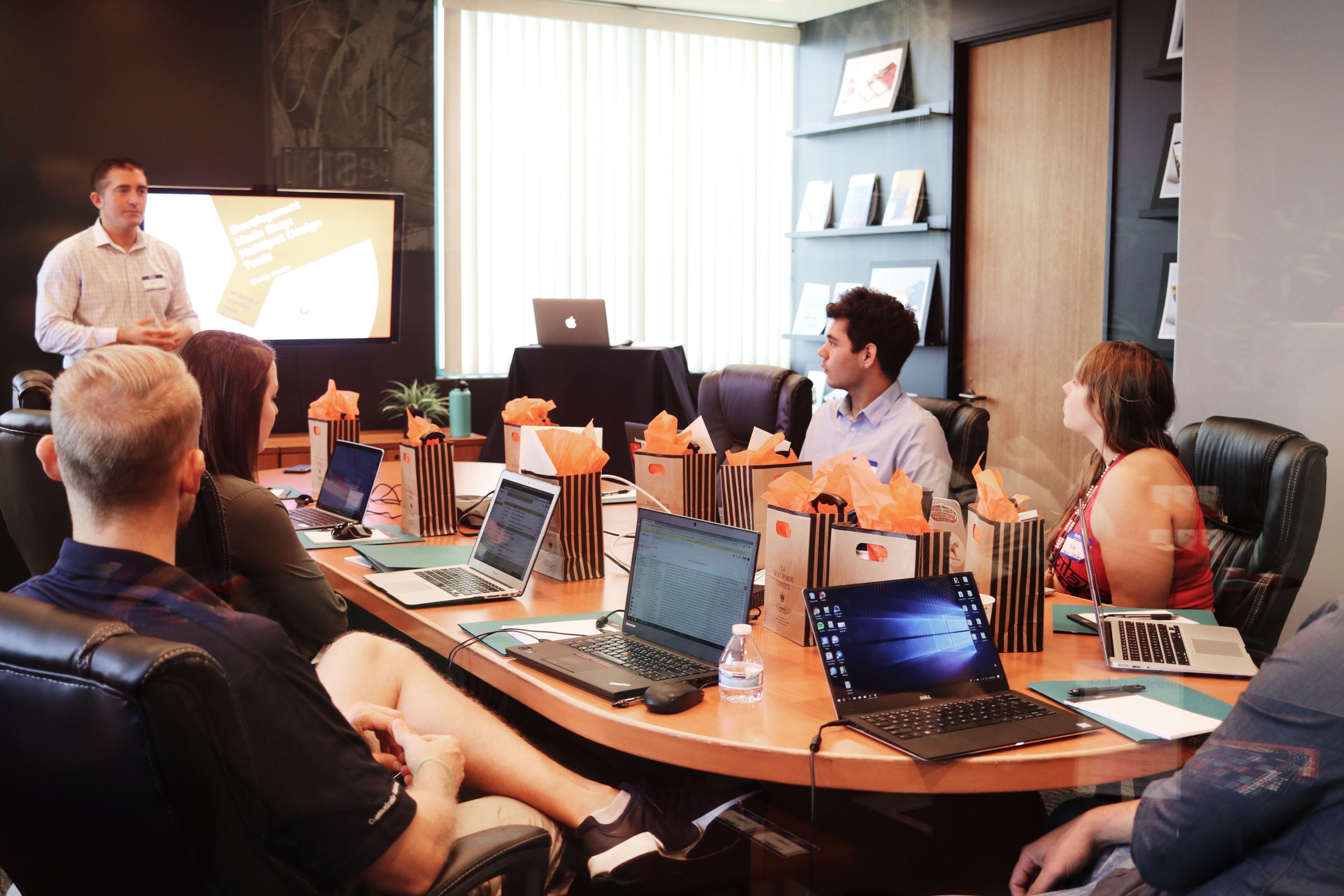 Image Source: Unsplash
Role of a Product Manager: Entrusted with a product's lifecycle, the product manager leans on market research to conceptualize, develop, and launch a product. Crucially, they synchronize with manufacturing, sales, and marketing functions.
Phases of Product Management:

Idea Generation: Deriving insights from market research and existing customers' feedback.
Concept Testing: A pivotal stage to test and validate the product service before mass production.
Design and Development: Prototyping and refining, driven by feedback loops.
Finalization and Launch: Introducing the final product to the market, positioning it for a competitive advantage.
2. Manufacturing:
Pivotal Role in the Product Lifecycle: After the product's design finalization, manufacturing undertakes the mass production, converting raw materials into the end product, ensuring it finds new users and markets.
Types of Manufacturing Processes:

Batch Production: Serving specific orders.
Mass Production: Serving a broad market with standardized products.
Continuous Production: Serving perennial demands without interruption.
Customized Production: Personalized products tailored to individual needs.
3. Fostering Integration of Product Management and Manufacturing:
Open Communication: Frequent discussions ensure team members from both sectors are on the same page regarding product specifications, modifications, and quality benchmarks.
Feedback Mechanisms: Manufacturing can be a source of invaluable feedback, aiding product managers in refining and finding new enhancements.
Unified Objectives: Synchronizing objectives concerning product attributes, timeframes, and expected volumes is essential.
4. Potential Challenges in Integration:
Scope Changes: Alterations in product specifics after manufacturing can disrupt processes.
Communication Hiccups: Misunderstandings can arise when team members don't effectively communicate.
Resource Limitations: A shortage of resources can lead to unexpected hiccups and delays.
5. The Future Landscape: Technological innovations are redefining product management and manufacturing. For instance, real-time data from production floors can guide product managers, allowing for rapid modifications and maintaining a competitive advantage.
Tight-knit collaboration between product management and manufacturing holds the key to effective business development. Existing customers remain loyal, and the potential to find new markets and opportunities becomes tangible when both sectors harmoniously coalesce, bolstered by dedicated team members and a focus on market research and insights.
Business Development vs. Marketing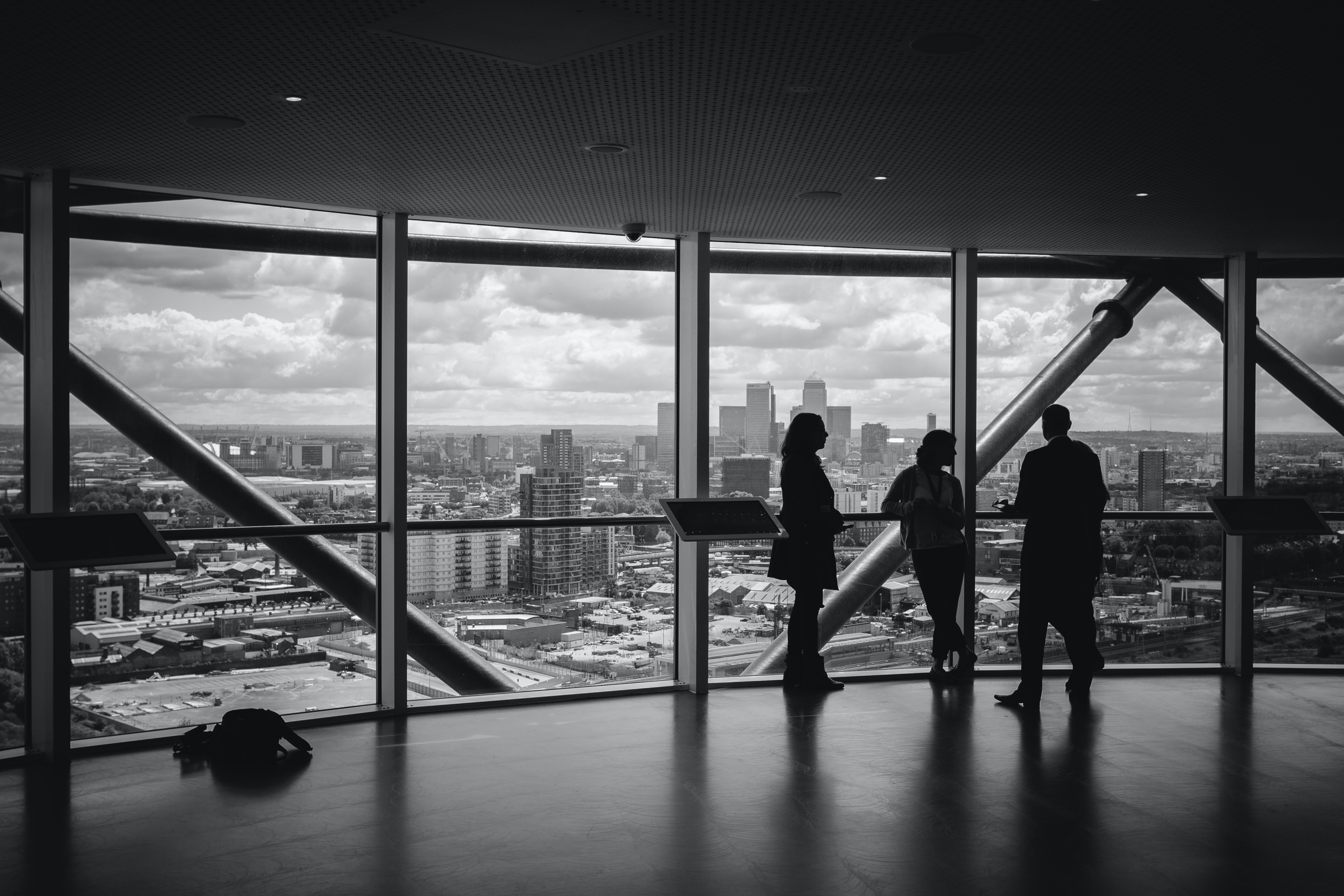 Image Source: Unsplash
Business Development: Exploring New Frontiers
Focus: Business Development zeroes in on finding new business opportunities and ways to grow the company.
Primary Objective: To diversify the company's offerings and reach by finding new avenues for product service expansion and forming strategic partnerships.
Key Activities:

Seeking strategic partnerships for a competitive advantage.
Exploring new markets and product or service opportunities.
Generating qualified leads to expand the company's reach.
---
Marketing: Resonating with the Target Audience
Focus: Marketing is all about promoting products and services to the target market.
Primary Objective: Understand and cater to customer needs and preferences, ensuring that the company's offerings resonate effectively with its audience.
Key Activities:

Conducting market research to gauge customer preferences and market trends.
Crafting compelling brand messages and campaigns.
Retaining customers by ensuring products and services meet their evolving needs.
---
In Synergy: A Holistic Growth Approach
Both Business Development and Marketing are essential cogs in a company's growth machinery. While Business Development lays the groundwork for expansion and diversification, Marketing ensures that the company's offerings find resonance with the potential customers. Together, they drive a company's success in the fiercely competitive business world, each complementing the other's efforts in project management and market penetration.
Trick number One – Set SMART goals
In the dynamic world of business, goals act as the driving force propelling companies forward. Using the SMART framework offers a structured approach, ensuring these goals aren't just vague ambitions but are actionable targets that can be methodically pursued by teams, from marketing to sales, for tangible achievements.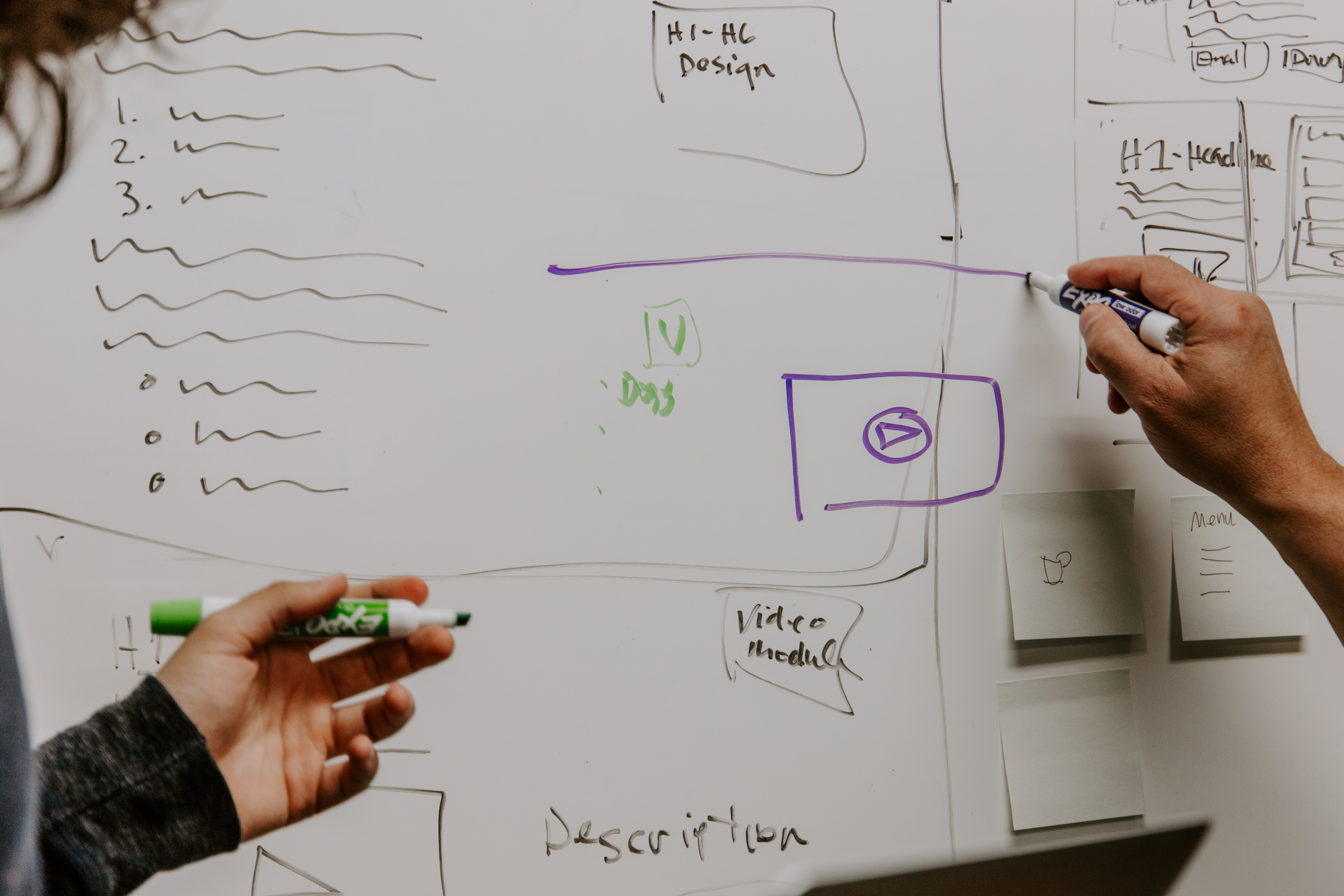 Image Source: Unsplash
---
1. Specific
For business goals to be impactful, they should be clear, specific, and well-defined. This clarity ensures all team members, be it the marketing team or business development representatives, understand their roles and responsibilities.
What is the precise outcome we aim for?
How does this goal benefit our target market or the business process?
Which departments or individuals are key to achieving this?
---
2. Measurable
Measurable goals allow many people, especially the sales department and project management, to track and monitor progress, thus ensuring that milestones are met and strategies are working.
How will we measure the success of this goal?
What metrics or KPIs will indicate progress or completion?
---
3. Achievable
Goals should be set high, but they also need to be realistic. This ensures that while teams are challenged, they aren't set up for failure.
Does the marketing team have the resources and tools needed?
Have we considered the constraints and challenges of the market?
---
4. Relevant
Every business goal, whether set by business development representatives or the sales department, should align with the company's larger mission and vision.
How does this goal align with our broader business objectives?
Is this goal relevant to the current market conditions and our company's position in it?
---
5. Time-bound
Time constraints ensure focus and prioritization. They prevent other day-to-day tasks from overshadowing the main objectives.
By when should the marketing team achieve this milestone?
How will project management ensure that timelines are adhered to?
---
The Importance of SMART in Business
Using the SMART criteria can be the linchpin for structured planning, execution, and evaluation in business. It ensures that specific, measurable goals are set in alignment with the target market's needs and the company's capabilities. From streamlining the business process to ensuring synergy between the sales department and the marketing team, SMART goals can steer a business towards success.
Trick number Two – Perform a SWOT analysis
Understanding the SWOT Framework
The SWOT Analysis is not just a tool; it's an invaluable resource for understanding your business model and its place within the market. By breaking down Strengths, Weaknesses, Opportunities, and Threats, businesses can build effective strategies that align with their business model and target market.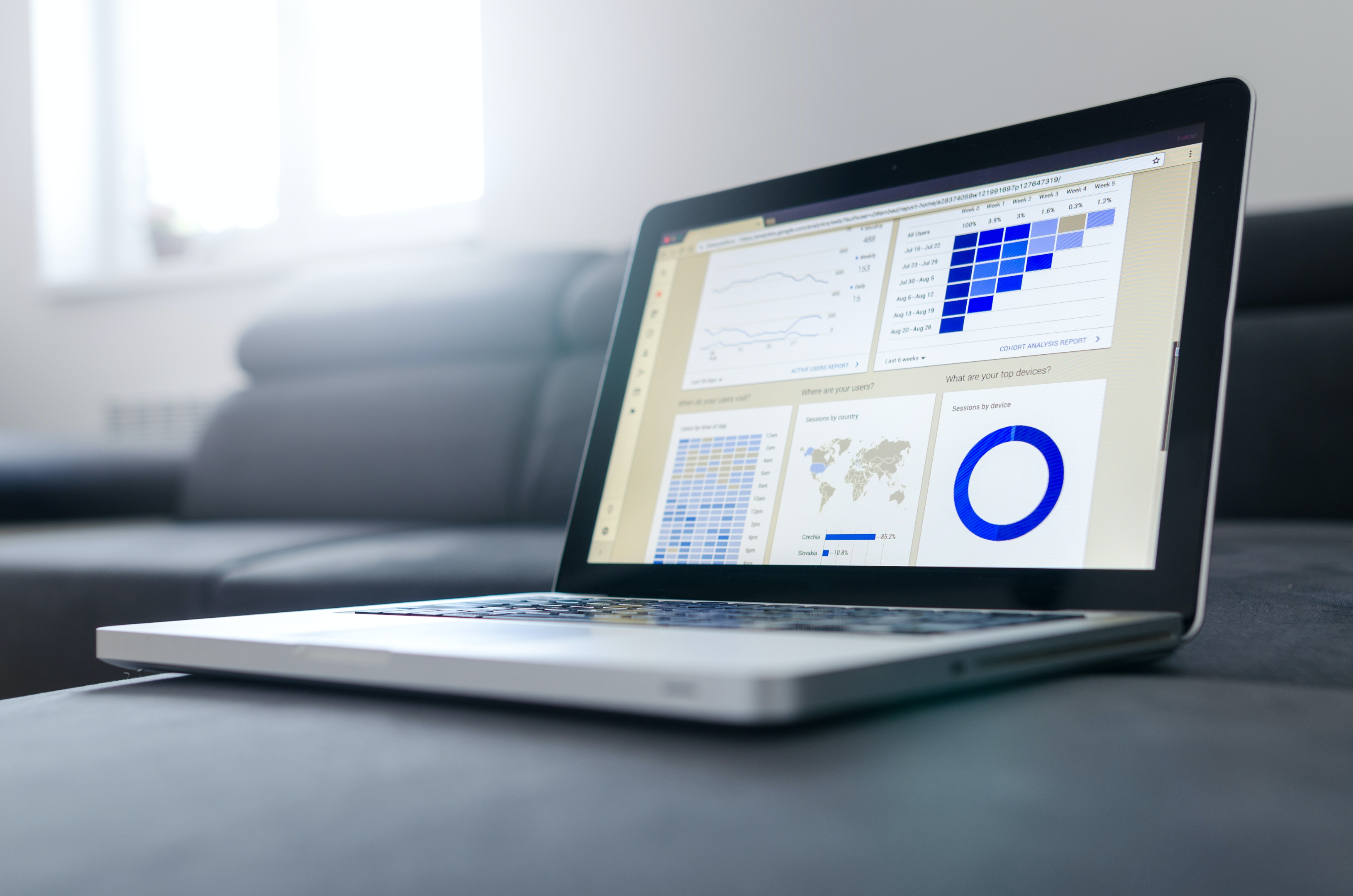 Image Source: Unsplash
---
1. Strengths
Understanding the strengths of your business model helps in capitalizing on what you do best.
How does our business model differ from competitors?
What unique value proposition does our model present to our target market?
Are there specific processes or methodologies in our business that give us a competitive edge?
---
2. Weaknesses
Identifying weaknesses in your business processes allows for timely rectifications.
Where does our business model fall short in meeting customer expectations?
Are there inefficiencies in our business processes that hinder growth?
What feedback from the target market have we not yet addressed in our business model?
---
3. Opportunities
Spotting opportunities can spark innovative business development ideas.
Can our business model adapt to tap into emerging trends within the target market?
Are there customer segments we haven't yet reached?
How can we tweak our business processes to capture more value?
---
4. Threats
Predicting external challenges is crucial for the longevity of your business model.
Is our business model vulnerable to new market entrants?
How might shifts in the target market's behavior threaten our current standing?
Are technological changes or regulatory shifts a potential risk to our business processes?
---
Involving the Team: The Collective Brainpower
To ensure a comprehensive SWOT analysis, involve business development teams. Their frontline experience can provide real-world insights, ensuring the SWOT is rooted in reality and not just theory.
---
SWOT – Your Blueprint for Strategic Evolution
A SWOT analysis, when done correctly, provides actionable insights. By constantly revisiting and tweaking the business model based on SWOT findings, companies can ensure they remain agile, meeting the ever-evolving needs of their target market.
Business Development Plan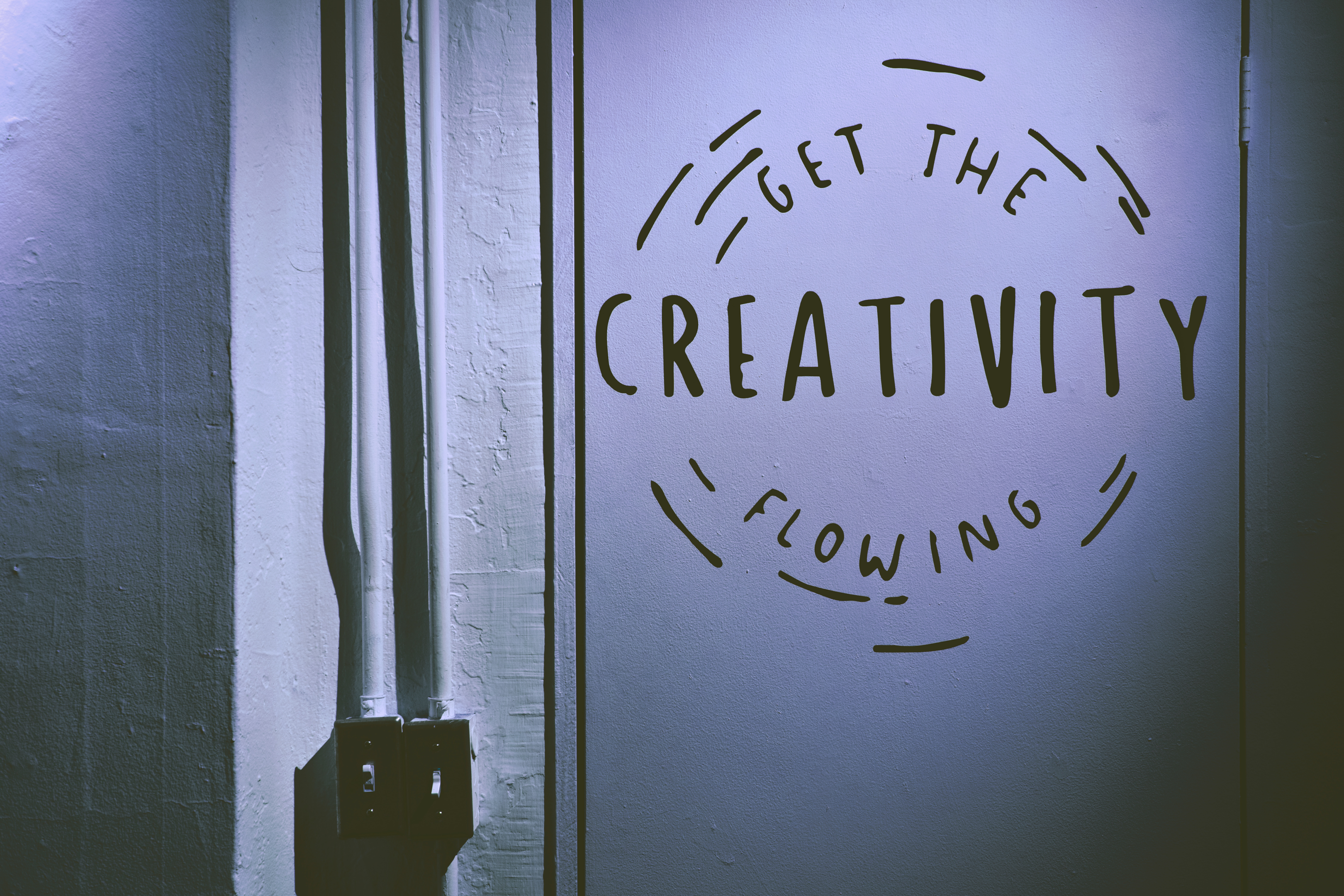 Image Source: Unsplash
1. Introduction
Purpose: Establishing the roadmap for driving business growth and acquiring new customers, as previously discussed.
---
2. Executive Summary
Brief Overview: Capturing the company's present landscape, reiterating the significant role of business developers in achieving growth.
---
3. Business Overview
Company Profile: Delving into the firm's mission, vision, products, and services, building on the context provided earlier.
Sales Strategies: A review of current sales strategies, aligning them with the business development goals previously highlighted.
---
4. Market Analysis
Conduct Market Research: A deeper dive into the target market insights shared earlier, emphasizing customer preferences and market dynamics.
Competitive Analysis: Building upon our earlier discussion on competitors, focusing on their strengths and weaknesses.
---
Internal & External Factors: Reflecting on the strengths, weaknesses, opportunities, and threats identified earlier, tailored specifically to business development.
---
6. Business Development Strategies
Lead Generation and Nurturing: Expanding on methods by business developers, which were previously introduced, to attract and maintain potential clients.
Partnerships: An elaborative strategy, emphasizing the role of business developers in forming new partnerships.
Customer Satisfaction: Building on the earlier notion of enhancing satisfaction to ensure customer loyalty and referrals.
---
7. Aligning Sales and Marketing
Integration: Echoing the need for effective collaboration between sales managers and business developers.
Marketing Strategies: Exploring the synergy between marketing efforts and the sales process to achieve business development goals.
---
8. Financial Projections
Budget Allocation: Designating funds, with particular attention to new business development, as previously touched upon.
Anticipated Returns: Forecasting revenues based on the strategies previously discussed.
---
9. Implementation Timeline
Milestones: Setting benchmarks, reflecting on the role of business developers as introduced earlier.
Sales Process Refinement: Delving deeper into plans for improving the sales process, which were mentioned before.
---
10. Monitoring and Evaluation
Feedback Mechanisms: Building on earlier discussions about gauging business developer performance.
KPIs (Key Performance Indicators): Metrics that echo our prior discussions on measuring success in the business development domain.
---
11. Conclusion
Future Vision: Concluding with aspirations for growth, underlining the essential role of business developers as previously highlighted.
---
12. Appendices (Optional)
Additional Data: Adding supplementary details, tying back to past successes in new business development or standout projects by business developers that we've noted.
Taking this approach ensures a consistent narrative throughout the business development plan, maintaining continuity with prior discussions and insights.
Guide: Best Practices for Businesses Keeping BDRs (Business Development Representatives) and Top-of-Funnel Activities on Track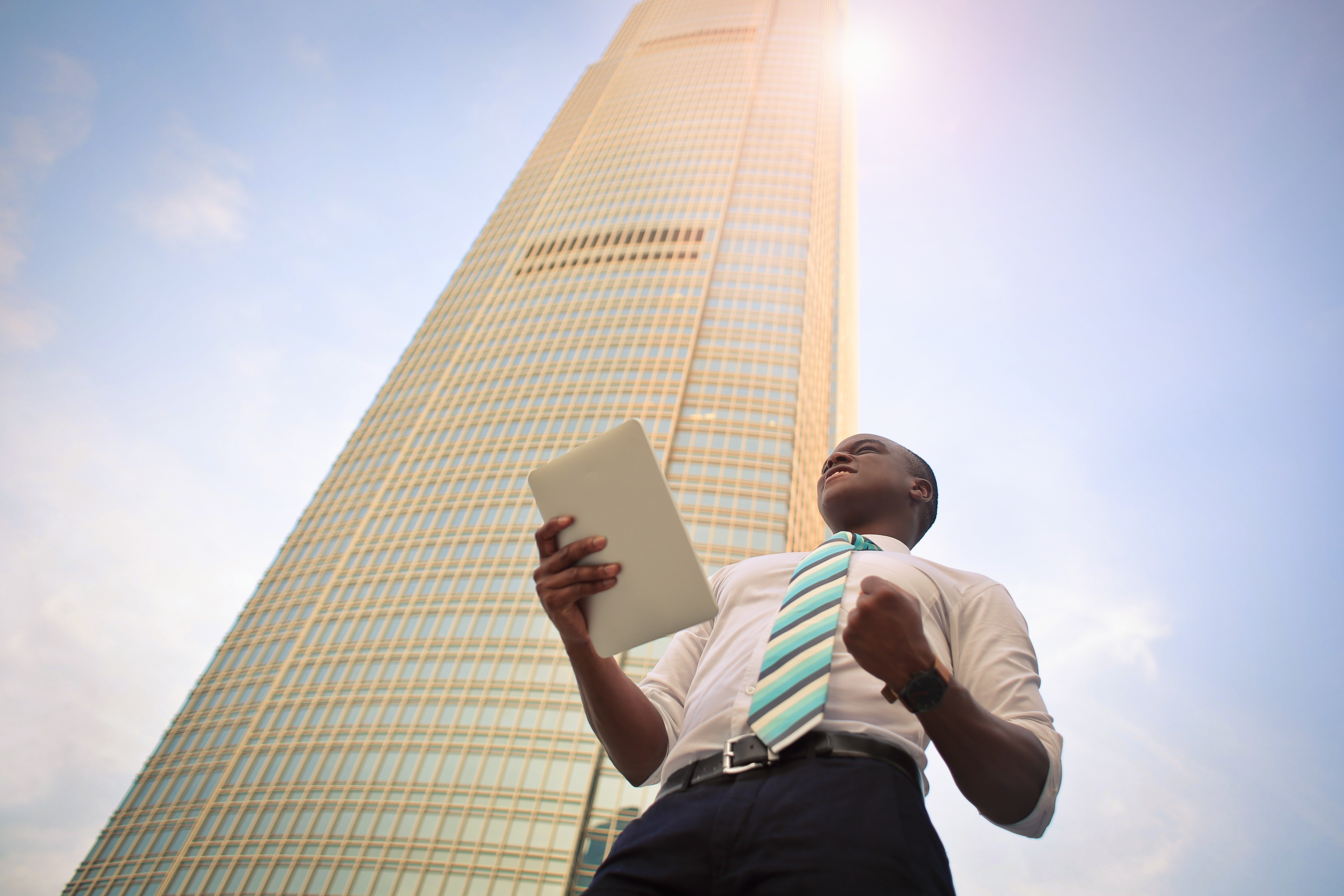 Image Source: Unsplash
---
1. Introduction
Purpose: Emphasize the role of BDRs in enhancing top-of-funnel (ToF) activities. Their collaboration with the marketing department is crucial for ensuring a steady influx of potential customers.
---
2. Setting Clear Objectives
SMART Goals: Establish Specific, Measurable, Achievable, Relevant, and Time-bound goals for BDRs.
Sales Targets: Quantify leads, conversions, and other KPIs. This is essential for an effective sales strategy.
---
3. BDR Role Clarification
Job Description: Clearly define BDR responsibilities, highlighting their role in qualifying leads and building business relationships.
Collaboration: BDRs should work closely with the marketing department and sales teams for optimal top-of-funnel strategies.
---
4. Effective Training
Continuous Learning: Equip BDRs with the latest sales strategies.
Product Knowledge: BDRs must understand the product or service to effectively qualify leads and address customer inquiries.
---
5. Tools and Resources
CRM Systems: These are crucial for BDRs to manage and qualify leads efficiently.
Lead Qualification: Provide tools to help BDRs qualify leads more effectively.
---
6. Monitoring and Evaluating Top-of-Funnel Activities
Feedback and Insights: Set up mechanisms for BDRs to get valuable insights on their performance, ensuring continuous improvement.
Sales Strategy Reviews: Regularly assess the effectiveness of your sales strategy to ensure alignment with business goals.
---
7. Encourage Collaboration
Sales and Marketing Synergy: Foster collaboration between BDRs, sales, and marketing teams.
Regular Meetings: Discuss challenges and strategies to qualify leads and enhance business relationships.
---
8. Adjusting Strategies
Stay Dynamic: Adjust top-of-funnel strategies based on results and market research.
Sales Strategy Innovation: Encourage innovative approaches in your sales strategy to stay ahead of competitors.
---
9. Recognizing and Rewarding BDRs
Incentives: Offer bonuses to BDRs who excel in qualifying leads and nurturing business relationships.
Career Growth: Provide avenues for growth within the company.
---
10. Conclusion
Driving Business Growth: BDRs play a pivotal role in driving business growth. Their ability to qualify leads and forge new business relationships is essential. Making business development a priority ensures a steady stream of potential customers, essential for long-term success.
---
Adopting these practices and emphasizing the crucial roles of BDRs will undoubtedly aid businesses in optimizing their top-of-funnel activities, leading to increased potential customers and ultimately, driving business growth.
Guide: Harnessing the Power of CRM in Business Development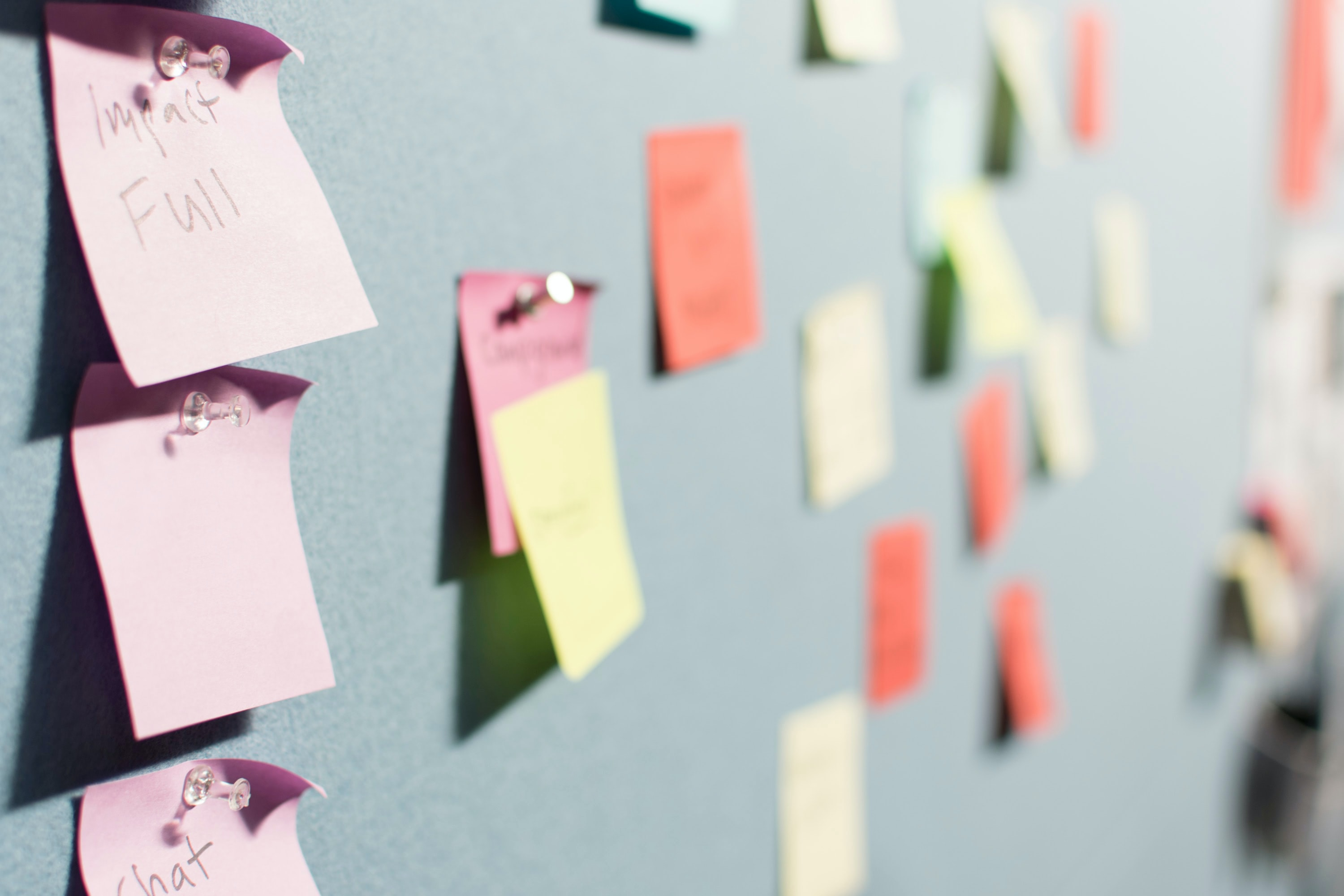 Image Source: Unsplash
---
1. Introduction
Purpose: Emphasize the indispensable nature of a CRM (Customer Relationship Management) system in augmenting business development activities and fostering sustainable growth.
---
2. Centralizing Information for Business Development
Unified Database: Gather all customer interactions, shaping a cohesive makes business development strategy.
Instant Access: Quick retrieval of customer profiles aids business development professionals in crafting tailored proposals and pitches.
---
3. Efficient Lead Management Drives Business Growth
Lead Tracking: Monitoring leads from the point of acquisition to conversion, this facilitates business development growth.
Segmentation: By categorizing potential clients based on various criteria, business development strategies can be more accurately honed.
---
4. Automation: A Catalyst for Business Development Growth
Sales Automation: Simplify routine tasks, allowing more time for strategic business development activity.
Marketing Integration: Link the CRM with marketing tools for an aligned and holistic business development approach.
---
5. Enhanced Communication for Business Development
Inter-departmental Collaboration: Ensuring the marketing and sales teams collaborate, driving business growth by sharing crucial data and insights.
Consistent Customer Communication: Log all customer interactions, which makes business development follow-ups both timely and relevant.
---
6. Reporting and Analysis
Gather Valuable Insights: Use analytical tools to understand sales trends, driving business growth through informed decisions.
Forecasting: By predicting future trends, one can anticipate and adapt their business development strategies.
---
7. Personalization and Business Development
Custom Interactions: Leveraging stored data to interact personally with potential clients, augmenting business development growth opportunities.
Targeted Initiatives: Design business development campaigns that address the specific needs of varied customer segments.
---
8. Integration with External Tools
ERP Synchronization: Connect your CRM with ERP tools for holistic management, optimizing business development activity.
Unified Marketing Platforms: Consolidate with email marketing tools and social platforms, crafting a singular and effective business development growth strategy.
---
9. Continuous Training: An Investment in Business Development
Empowering Professionals: Ensuring that business development professionals are well-versed in CRM capabilities maximizes its potential.
Regular Updates: Incorporating new CRM features keeps the business development process agile and current.
---
10. Conclusion
A Key to Sustainable Growth: In our dynamic business landscape, a CRM doesn't just facilitate operations; it makes business development more strategic, proactive, and effective. By systematically understanding and catering to customers, companies not only streamline processes but also secure a competitive edge.
---
When wielded correctly, a CRM system is an invaluable tool for business development professionals, offering them the resources and data they need to drive consistent and sustainable growth.
Business Development Requires a High Level of Understanding of a Potential Partner
Business development requires an intricate balance of skills and understanding, especially when distinguishing it from other roles or strategies.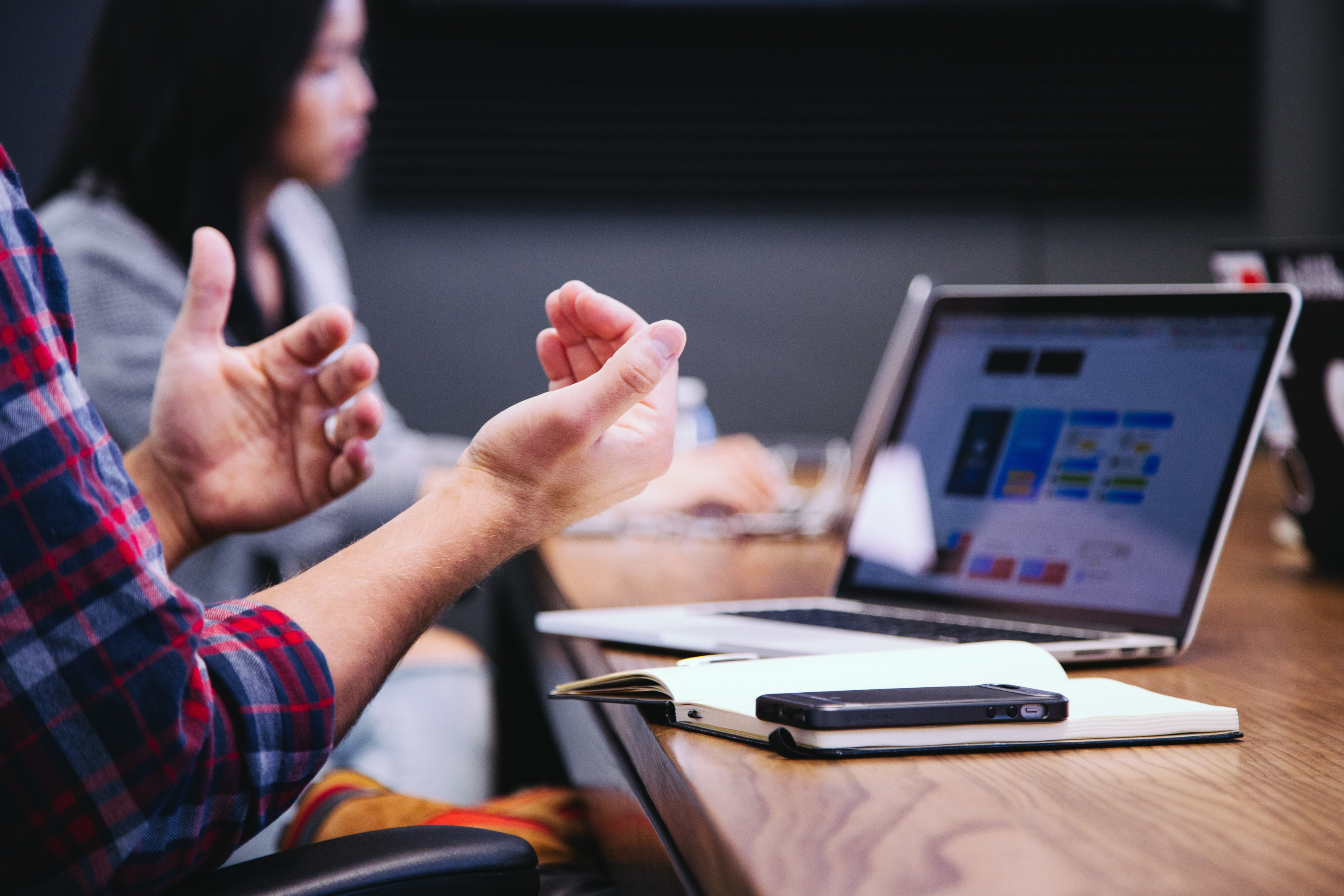 Image Source: Unsplash
A business developer must embody a combination of strategic vision, interpersonal skills, and a deep understanding of the industry and business development processes. Their primary objective is not merely to generate sales but to drive business growth by finding and fostering long-term relationships that provide mutual benefits.
This role demands the business developer to continually seek avenues to drive business growth and align their strategies with the company's overarching goals.
Moreover, a proficient business developer is adept at identifying potential opportunities that not only bolster sales but also fortify the company's position in the marketplace.
This requires an intricate understanding of potential partners.
Deep Dive into Needs: A business development professional has to delve deeply into the needs and concerns of potential partners. Their role is not just about transactions but about crafting enduring, value-driven relationships.
Distinguishing Business Development vs. Sales: One of the essential distinctions that a business development professional must understand is the difference between business development vs. sales. While sales focus primarily on closing deals and lead nurturing, business development is about finding new opportunities, lead nurturing to identify potential partnerships, and fostering long-term growth through strategic lead nurturing. The process of lead nurturing plays a pivotal role in ensuring that these opportunities are cultivated over time, bridging the gap between initial contact and a successful partnership or deal.
Business Development vs. Marketing: Another crucial differentiation is between business development vs. marketing. Marketing revolves around promoting products or services and attracting customers. In contrast, business development is about strategic relationships and partnerships.
Research & Compatibility: Understanding a potential partner's history, values, and business model is pivotal. This insight allows a business development professional to tailor their approach, ensuring a fit that benefits both parties.
Development vs. Short-Term Gain: While some roles in a company might focus on immediate results, business development often requires a longer view. The aim is not just to find new opportunities but to nurture them into sustainable, profitable relationships.
In summary, the role of a business development professional is multifaceted. It's about understanding the nuances of development vs. other functions, like sales or marketing. Their primary focus is to find new, lasting partnerships that align with the company's long-term goals and values.
Related Posts
Image Source: Unsplash Voice search SEO, a vital component of online business strategy, has gained immense popularity due to the widespread adoption of voice-based virtual assistants. This...
Image source: Freepik Link building for newbies is an essential way of understanding how any successful SEO strategy maximize the rewards while balancing the risk. Attracting high-quality external...